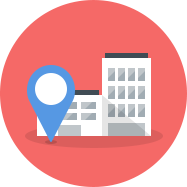 Contact Us
Nageco's location is situated near Tripoli International Airport.
The simplest way to reach us, from downtown Tripoli, is to take the airport road, take the flyover to Ben Ghashir, drive straight through Ben Ghashir, turn right just after NOC Petrol Station No. 143. and follow the road for close on 7 kms.
We are next to Daewoo's compound.
Show on map
Phone & Extensions

+218 21 563 4670/4